By Paul Lieb owner
www.BulletBobber.com
,
www.DualFin.com
and the NEW
www.ProwlerPlaners.com
This video lacks any action...no fish caught on video but it shows you something that has NEVER been done before. Most folks understand my patented inventions are mini planer boards / bobbers that flip direction and color when given a little pop but this was a surprising finding. I first noticed it after casting out a Prowler Planer with a 1/4 oz. weight and a nice size chub and laying the rod down on top of a culvert that ran out into a pool. The current made it plane to one side and out of the current where it stopped planing and fell on its side (line pointing up). When the line went slack, it sagged down into the current and pulled on the Prowler making it do a 180 turn pointing and moving back into and across the flow. With the tension reestablished the other keel took hold and it planed to the other side of the current repeating this action over and over. I never touch the rod and it was continually cruising back and forth like a bird dog working a field. I only had to recast when I caught a fish or I opened the bail to fish further downstream.
In a fishing location like this you never need to reel in and recast but I did expect to have to reel at times to get back into the current to explore different areas of the pool. Once I found the fish it was really easy to stay on them, or I mean keep sweeping back and forth over the area.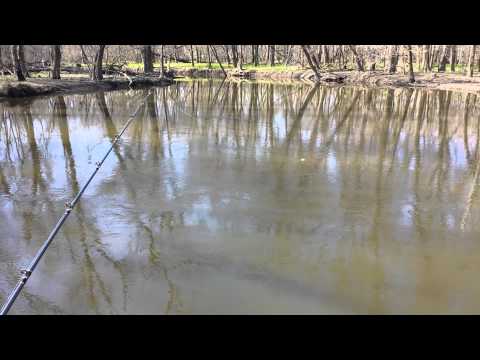 Here are some of the fish I caught using the technique.