See if you can watch The Weather Channel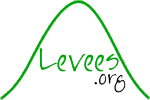 June 7, 2010
Anthony
See if you can watch The Weather Channel tonight at 6:10 CST.
I will be a guest of Stephanie Abrams and her on-air cohort, Jim Cantore broadcast live from the Lower Ninth Ward in New Orleans.
We will discuss 'where we are' as we enter Hurricane Season.
The fact that Levees.org is a guest on a national TV show is evidence that your ongoing efforts are paying off.
Thank you for your continued support.
We're winning.
Sandy Rosenthal
Founder, Levees.org
www.levees.org
Click here for more on The Weather Channel's Hurricane Series.
http://www.nydailynews.com/entertainment/tv/2010/06/07/2010-06-07_on_hurricanes_abrams_sees_lots_of_hot_air.html
NOTE: THIS EMAIL WAS SENT TO LEVEES.ORG'S 24,925 SUPPORTERS NATIONWIDE.
New York Chapter
bhschaffer@levees.org
California Chapter
kc.costa@levees.org
Florida Chapter
DrLevine@levees.org
Illinois Chapter
derbes@levees.org
Oregon Chapter
Oregon@levees.org
Follow us on Twitter!
http://twitter.com/LeveesOrg
Follow us on Facebook!
http://www.facebook.com/leveesorg
Remove yourself from our list.